You did it again, didn't you? You spent the last weekend before Christmas lazing around and procrastinating the utmost urgent Christmas shopping. And now that the weekend has quickly flown by, like it always does, you're regretting, and mulling over how and what to gift your dear ones this Christmas.
Don't panic, holiday procrastinators! There's still time!
We've got you covered, not just for your life, car, and health, but also for this situation. Here are some last-minute Christmas gifts ideas that require minimal effort.
Personalized goodies
Who doesn't love a cushion or a keychain or a t-shirt with their name written on it? Be creative and make regular and every-day stuff special by inscribing the receiver's name or initials or birth date on it.
Spa Gift Card
With all the stress we go through, a day at a spa can't go wrong. You may also enjoy this gift with your loved ones by using The Entertainer with its buy one get one free offers for the top spas in the UAE.
Netflix Gift Card
With more than 700 original TV Shows and 2000 movies on Netflix, this gift is totally worth it!
Creative Christmas Tree
This one works wonders. Get a small Christmas tree and decorate it with loads of tidbits that the receiver loves. It could be candies, chocolates, green tea sachets (for the health-conscious ones), and others of the sort. Just pin these goodies on the branches and tadaa! You have a lovely Christmas present ready in no time.
Mason jars
Everyone has an extra mason jar or two lying around in their house. If not, they're easily available to buy at every super market. The idea is to get a Mason jar and to fill it with something nice. What could this something nice be? Fortune Cookies, Popcorn Packets + A movie, Fairy lights (makes for a fantastic night lamp) with a special note inside it.
Money Jars
Speaking of jars, how about creating a Money Jar? They're super easy to create if you're willingly to get your hands dirty. Just find a plastic bottle, make a careful slit in it that's big enough to pass a coin. And paint the bottle creatively. That's it. It's done.
Unique Candles
Candles make for a beautiful and useful gift and they're super easy to make. Try making these in different shapes and sizes. Say, maybe in a tea-cup, or by using your cookie-cutter, or any other creative thing that you can find in your house.
Painted Mug
If your recipient is a coffee/tea lover, gift them a personalized mug. Just buy a plain mug from the supermarket and paint or write something beautiful on it or you can pr. If you're feeling particularly creative, feel free to go an extra mile and use PVA glue and sequins to decorate the mug.
Hand-written Letter
If all else fails, this is your last resort. In this world of brief Instagram, Snapchat, and Whatsapp, where communication is as instant and thus as brief as it gets, go the old-fashioned way. Write the recipient a nice long letter pouring out your love for them in your words. Put it in a nice envelope and well, gift wrap it. This may perhaps be their best gift this Christmas.
Book
You can't buy happiness, but you can buy books and that's kind of the same thing. So what is better than gifting the person you love a book they fancy?
This is all you got T-shirt
Who doesn't like gifts with sense of humor? This one is pretty self explanatory.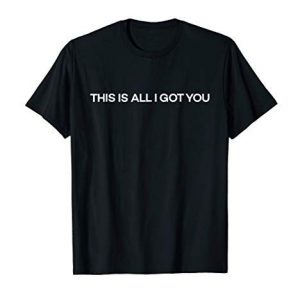 Plant
Gift them a tiny plant and take in return the promise that they will nurture and nourish it daily. This makes for a very meaningful gift – and it costs zero effort.