We have good news. And we have bad news.
Let's do the good one first. There is a massive super sale in the city this weekend (From 22nd to 24th of November 2018) with over 250 brands across 1500 outlets offering up to 90% discounts. What's more? Even the e-portals are joining the party with Souq hosting its sale in the name of White Friday, and noon putting up its offers under the label of Yellow Friday.
Bad news is that the sale comes bearing all the happy, happy offers on a month-end. Yep. It is that dreary time of the month when everyone's broke with most of the paycheck spent and many of the credit cards maxed out.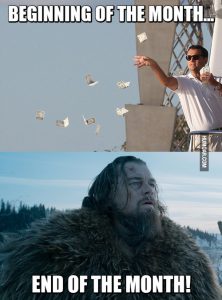 So what does one do then? Turn a blind eye to the jaw-dropping offers and deals? Absolutely not!
One follows the following tips to make the most of the super-sale fiesta without drowning in debt.
Save 10% extra using your card
Frankly speaking, the color of the Friday – White or Yellow – is the last of our interests right now. Friday could be the color of a turtle for all we care! It is the additional 10% discount that we're raring to bag and so should you, if you have an Emirates NBD or Emirates Islamic credit card, that is. There is an extra 10% off when you shop from Souq.com with those cards. Yay!
Cashback cards
People, it is time to scour your wallet for cards like the Emirates Islamic Cashback Plus Card, that offer cashback and rewards. Fish them out, get every cashback that you can, and don't shy away from redeeming accumulated points from previous purchases. It is the month-end fellas! These are the difficult times!
Save on food spending
Let not your expenses on food, while you shop all day long at the malls, eat a big bite of your wallet. That said, also don't starve yourself as you will need a whole lot of energy to sift through those sale racks which are a ruckus! Filter your choice at food courts with apps and credit cards that offer a buy one get one at food outlets. That way, it saves you not just money but also time.